2023-05-27
News
2023 Shingu Fireworks Display annoucement!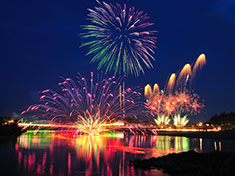 We are pleased to announce that the Shingu Fireworks Display for 2023 (as part of the Kumano Jofuku Manto-sai Festival) will be held this year!
For the first time in 4 years, the well-loved fireworks display will be held.

Venue: Kumano-gawa River (riverbed near Kumano Hayatama Taisha Grand Shrine)
Date: August 12-13 (fireworks on 13th, nighttime)

We hope everyone can make it down to see the wonderful fireworks!
We will upload further details about the fireworks closer to the date.
お知らせ&新着イベント情報一覧へ