What do you mean watermelon shaved ice is a local cuisine in Shingu?
Watermelon shaped shaved ice is a summer tradition in Shingu and is loved by many locals. This watermelon ice can only be tasted in the Kumano area from Shingu to Mie. It's considered a classic taste for the local area. Remember though, only the appearance is watermelon - you can choose between a whole variety of flavours like melon, lemon and strawberry, and many others.
Experience some fancy Kakigori at Shingu's most popular shop.
Naka Kori-ten is an ice shop where you can enjoy shaved ice throughout the whole year. The shop uses high quality ice, which is made by slowly freezing the famous waters of the Koza-gawa River over a 72 hour period. This in turn gives the shaved ice a different texture that adds to the tasting experience. It is a truly delicious shaved ice specialty shop, and has been selected for the Nippon Keizai Shimbun Newspaper kakigori top stores, coming in at number 9, so not only visitors, but also local students visit every day. Please try the Watermelon Ice that looks like a watermelon, which is the most famous item of the shop.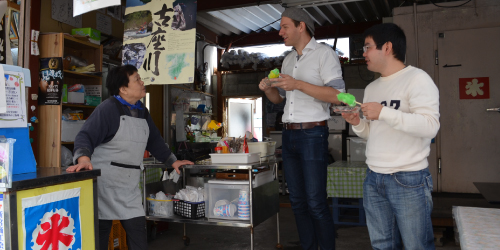 Naka Kori-ten is in a narrow alley between Kumano Hayatama Taisha Grand Shrine and Kamikura-Jinja Shrine. It is a cute retro store, so keep an eye out for the wooden furnishings and signs while you walk around.
Inquiries;
Name : Naka Kori-ten
Add: Shingu 551-12, Shingu City  [Google Map]
Tel : 0735-21-5300
Open : 8:00-20:00
Close : open 7 days a week
Parking : available